Even within the Bengali culture, there are variations in our cuisine. The Ghoti Bengalis, who live across the Bhagirathi River from the Bangal Bengalis, are known for their use of poppy seeds (or posto) in their food. Even though we're Bangal Bangalis, we love posto also! This unique use of poppy seeds in our vegetarian curry, or torkari in Bengali, will impress you with its delicious earthy flavor.
Ingredients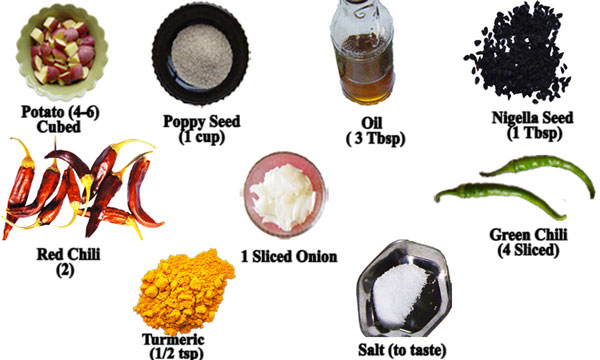 Preparation time: 30 minutes
Serves: 4 people
Procedure
1. Make sure to soak 1 cup of poppy seeds in a bowl overnight. You may want to wash it several times with water.
2. Then pour the soaked Poppy Seeds into a blender, add a quarter of a cup of water and blend. Every now and then, use a spatula to push down the seeds down the side of the blender. Blend until it becomes a smooth paste.
3. Pour it into a small bowl and set it aside.
4. Add oil to a medium hot pan.
5. As the oil heats up, add the dry red chilies, the nigella seeds, and when they start to pop, add the sliced onions.
6. Stir for several minutes, then add the sliced green chilies.
7. Stir, then add the potato, the turmeric, salt, and poppy seed paste.
8. Add half a cup of water.
9. Stir, then cover the pan.
10. Occasionally remove the cover and stir the mixture. If you have to add some water, then do so. Also check if your salt is right.
11. If you need to add some more salt, then add it at this stage.
12. Continue cooking till the potatoes soften.
13. Turn off the heat when the curry attains right consistency.