India, along with most Asian countries, have rice as a staple of their cuisine. It goes really well with the type of foods that we make – curries and daals that need to be soaked up with some type of carbohydrate. Rice can be either steamed or fried. This recipe is a Bengali-style fried rice that can be eaten by itself or with curries or daals.
Ingredients: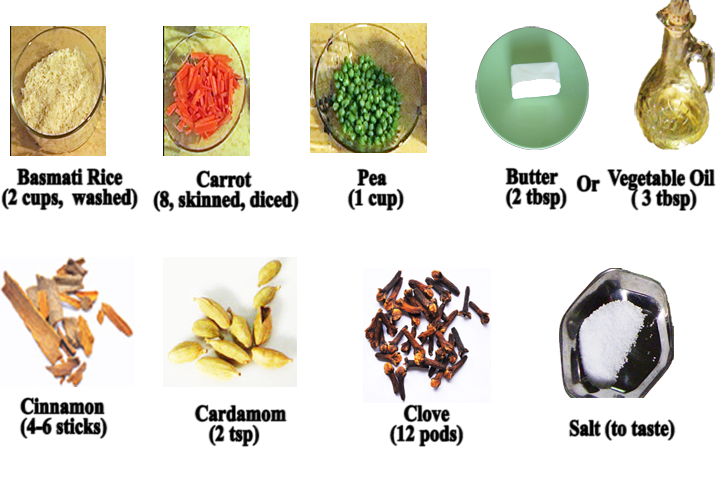 Preparation time: 20 minutes
Serves: 6 people
  Procedure:
1. Melt the butter in a medium hot pot.
2. Add the cinnamon, cardamom and the cloves in the butter and then stir.
3. After about a minute, add the rice and then fry.
4. Stir the mixture uniformly througought the 3 to 4 minutes of frying process. Otherwise the rice will stick to the bottom and burn.
5. Then add two glassfulls of water.
6. Add salt.
7. Stir the mixture to mix well.
8. Then when the rice boils, add the carrot.
9. And cover the pot.
10. Check occasionally to check if the water has evaporated and the rice is well cooked.
11. Then add the peas and then mix gently so the mixture does not become too mushy.
12. Turn off the heat and cover the pot.
13. Then remaining heat will complete the cooking.
Serve the rice hot with your choice of vegetable, fish or meat dishes.