I've grown up eating Chhola or chana daal with rice, luchi and chappatis for breakfast or dinner. This split chickpea lentil has a medley of unusual ingredients that work really well together and make it full of protein, healthy oils, and spices that's great for your health. No wonder it's eaten almost daily in Bengal! In this recipe we'll show you a common cooking technique for this simple chholar daal.
Ingredients: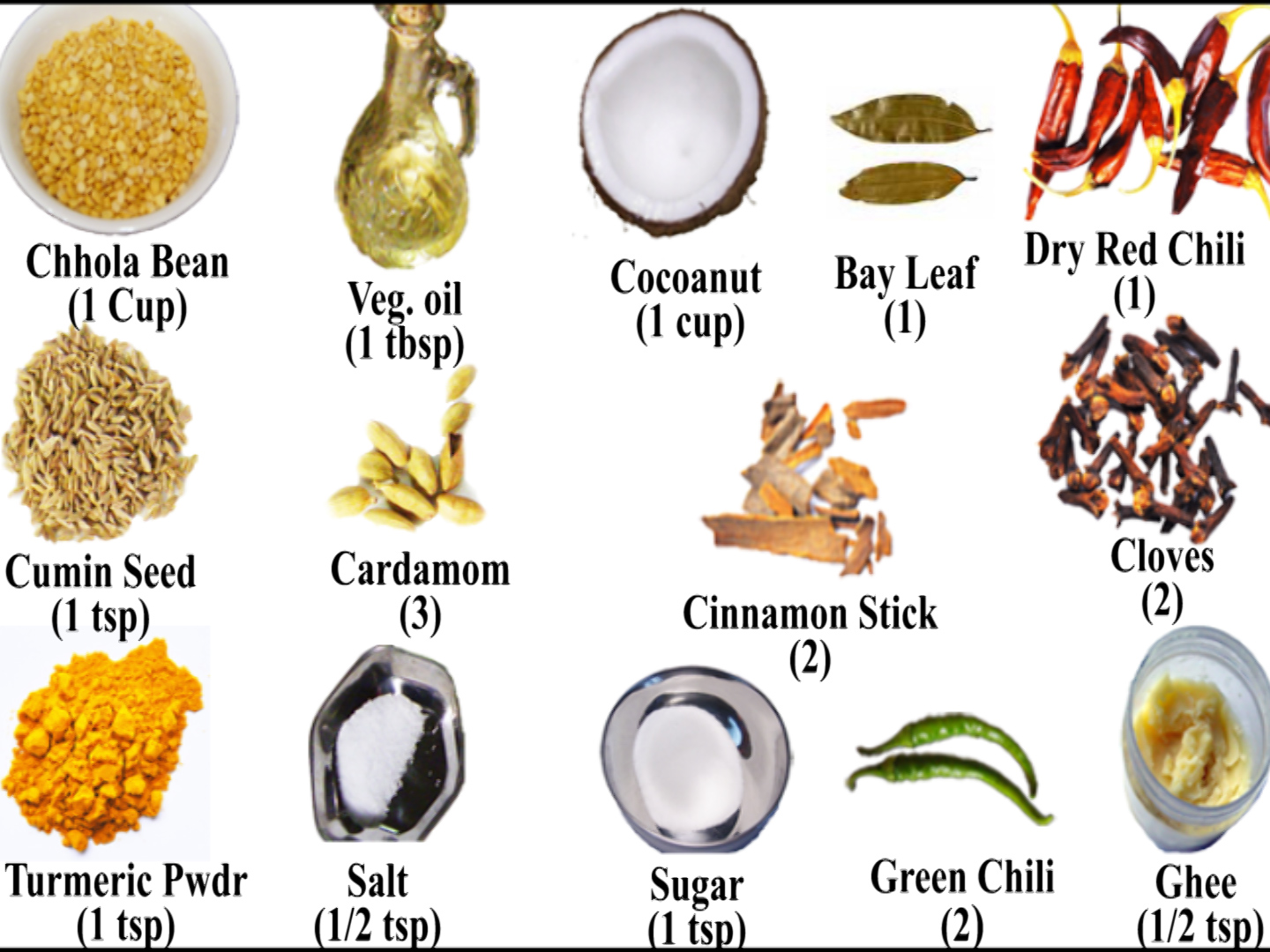 Preparation time: 25 minutes
Serves: 7 people
Procedure:
1. We soaked the chhola in water for several hours. It's alright if you don't soak it beforehand, it will just take a longer time to boil. Add the washed split chhola to a large pot and add water.
2. Turn on the heat.
3. Bring it to boil. Cover the pan. Keep eye on it, as it can overflow.
4. If that happens remove the cover temporarily.
5. Continue boiling till the bean is half-way softened.
6. Set this pot aside.
7. Heat a separate pan. Add oil and spread it around the pan.
8. Add diced coconut and stir.
9. Continue frying until the coconut turns brown, then remove it from heat and set it aside.
10. In the same pan add some more oil.
11. Then add the bay leaf, the dry chili, the cumin seed, cardamom, cinnamon sticks, cloves.
12. Stir for a minute or so till the cumin seeds start popping.
13. Then add this spice mix to the boiled chickpeas.
14. Mix well.
15. Add the fried coconut, turmeric powder, salt, sugar.
16. Mix well, but try to not crush the chickpeas. The idea is to soften the peas, but preserve its shape.
17. Add the green chilies.
18. Add water to bring the daal to the right consistency.
19. Bring it to a boil.
20. Add Ghee for flavor, which is optional in case you're being health conscious!
21. Stir well.