Who does not remember those childhood days in Bengal when mothers and grandmothers used to cook khichuri on rainy evenings? The pitter-patter of the rain would create the magical delirium of the season and the aroma of Khichuri wafted silently! My mamar bari (maternal grand parents' home) was next to a river in East Bengal. In my childhood, I would hear the haunting Bhatiali song of a grief-stricken boat man on his simple nouko and would wait when my Aaji (maternal grandma) would call us that the khichuri was done. I and my sister would rush out to their kitchen to sit on the peeri (peedi), those low wooden stools to sit on the floor … (Memory – you are such a mischievous masseur!)
We had khichuri on festive days as well. Called Bhog-er khichuri, those are cooked for mass consumption and handed out with big ladles from brass buckets on banana leave plates! Cooked with rice, lentil, vegetables and spices together, khichuri is a tasty, aromatic and healthy vegetarian meal.
Ingredients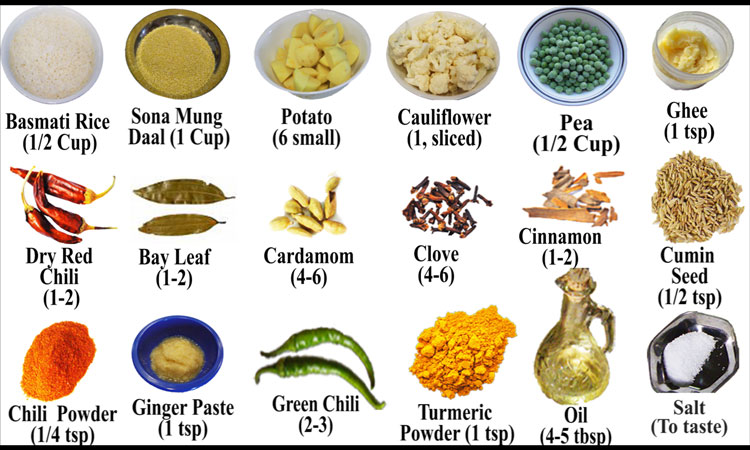 Principle
The recipe consists of the following steps:
(1) First roast the dry moong beans.
(2) Fry the cauliflower florets and the potatoes separately and put those aside.
(3) Sautee the spices with the moong bean and rice.
(4) Then boil the mixture to completion.
Procedure
Roast the mung beans uniformly by stirring it continuously on medium heat. Remove it from heat as the daal turns slightly brown and is fragrant and leave it aside. Add oil in the hot pan and as the oil heats up, add the cauliflower florets and stir. As it turns slightly brownish, remove those from heat and leave it aside.
In the same pan add more oil if needed and add the potatoes. Stir and turn over as each side has brown color. Then remove the potatoes and leave it aside as well.
In the remaining oil, add ghee and when the ghee is hot, add dry chili, bay leaf, cardamom, clove and cinnamon and the cumin seeds. Stir for about 20 seconds. Then add the potatoes and mix them together.
Add the roasted mung daal, the washed rice. Again mix well. Add the turmeric powder, chili powder, ginger paste. Mix well for a minute.
Add six cups of water, the green chili. Mix those together and bring the mixture to a boil. Then turn down the heat and cover the pan. Cook for about 10-15 minutes until the rice is soft. Then open the cover and mix. Add salt, cauliflower. Mix again and cover and cook for about 5 minutes.Then add the peas.
Mix carefully, cover and heat for another 2 more minutes then check to see the potatoes are soft. Check for salt and add more if needed. When the water is almost dry, turn off the heat.
This completes the kichuri.