Although they are commonly associated with breakfast in the West, in India an omelet can be eaten anytime. It's a popular street food and an easy side dish for the traditional rice and chapatti meals.
Ingredients: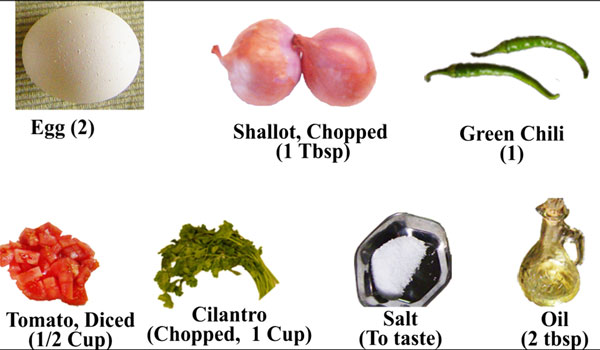 Preparation time: 10 minutes
Serves: 1
Procedure:
1) Finely chop the shallots, chilies, tomatoes and cilantro and set those aside.
2) Break the eggs into a cup and beat the yolks and whites.
3) Add the tomatoes, the chopped chilies, shallots, tomatoes, cilantro and salt and mix well.
4) To a moderately hot, shallow pan, add oil and when the oil is hot, pour in the eggs.
5) Spread the egg mixture over the whole surface of the pan with a flat spoon and cook on one side till it becomes firm, then fold it over and cook the other side
6) When the omelet turns brown, remove from the pan.