With its earthy taste and elemental pungency, mustard adds zest to Indian cuisine. And its easy availability has made it a common ingredient in Bengali cooking. Here we have used the powdered mustard seed to cook shorshe chicken, a common dish in the Bengali region. For this recipe we used:
Ingredients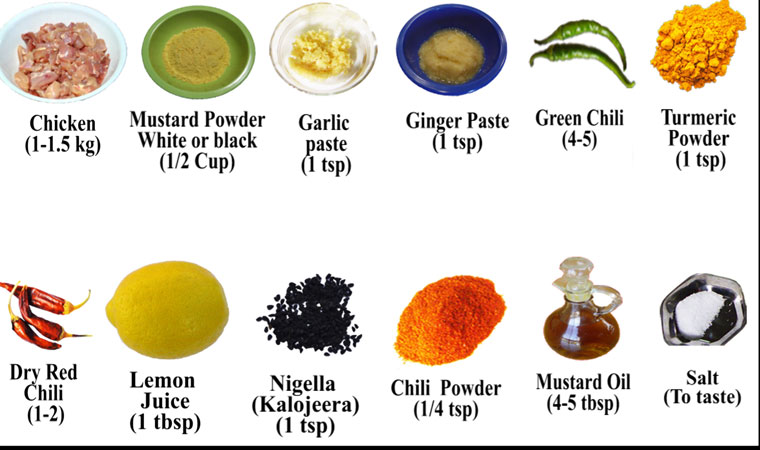 Principle
The recipe consists of 3 steps
First the chicken is marinated.
Then the spices are sautéed.
And finally the meat and spices and mustard are cooked together to completion.
Procedure
To the ashed chicken meat add the lemon juice, turmeric powder, salt, red chili powder and mustard oil.
Marinate the chicken, cover the pan and leave it aside for an hour or overnight. Then turn on the stove.
When the pan is medium hot, add mustard oil. Swirl the oil around the pan. Add the dry red chili, the kalojeera. Stir. Add the garlic and the ginger. Be careful if the mixture splatter. Sautee for a minute. Then add the marinated chicken. Mix. Continue frying for the next 8 – 10 minutes or till water evaporates and the chicken pieces acquire brown color. Add some turmeric powder and salt. Mix. Check to see that the chicken is cooked inside. Then add the mustard powder mixed with water. Mix well. Add some water if the mixture is too thick and then cover the pan and continue heating. Remove the cover after about 4 to 5 minutes. Heat the mixture to bring it to right consistency. Then turn off the heat and cool it down.
You may want to drizzle some raw mustard oil on top. Shorshe chicken cooking is now complete.
Serve the chicken with hot steamed rice or chapatti or Luchi.