We Bangalis love our chicken curries and have a bunch of variations on chicken curry recipes. Unlike a malai curry, this dish isn't cooked with coconut milk, but grated coconut pieces instead. This particular is unusual because of the sweet and savory flavors that the coconut adds.
Ingredients: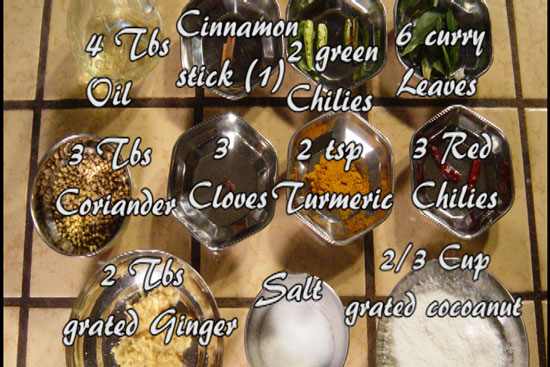 Preparation time: 30 minutes
Serves 4 people
Procedure:
1. To a moderately hot pan, add 2 table spoonfuls of oil and as the oil is getting heated, add coriander seeds, split red chilies, the cinnamon stick, cloves and grated coconut.
2. Fry the mixture for 5 minutes as you stir continuously.
3. After 5 minutes of frying, transfer the spice mixture to a blender and grind them to a semi smooth paste
4. To marinate the chicken, put the cubed chicken meat in a bowl and add the turmeric, 2 spoonfuls of salt, 2 split green chilies, grated ginger, half of the chopped onion and the spice paste.
5. Mix the meat with all the spices well. And then leave to marinate at room temperature for about 20 minutes
6. To a moderately heated pan, add the remaining 2 table spoonfuls of oil
7. Add the remaining half of the chopped onion and fry until it is golden brown
8. Add the marinated meat, diced potato, chopped tomato and a cup of water
9. Cover the pan and let it cook on low heat
10. After about twenty minutes, remove the cover and mix well
11. Check if the meat is cooked by sticking a fork into the chicken cubes. If it passes through and the meat flakes out then it is done.
12. Check the salt and if needed add more to taste.
13. Turn off the heat and garnish the curry with chopped cilantro
Serve the curry with steamed Basmati or Jasmine rice.