Dim jhal is an interesting and easy recipe for cooking tasty egg curry.
Ingredients
You will need the following ingredients for making the Dim Jhal.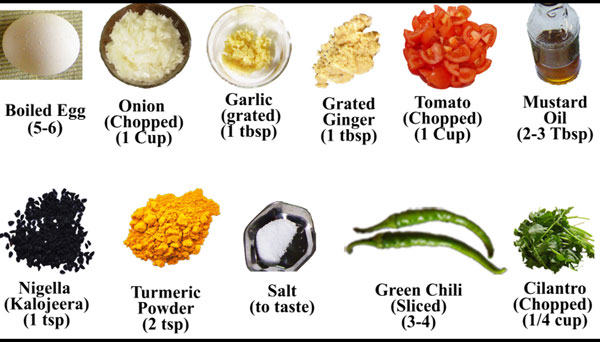 Procedure
Hard boil 5 eggs and then peel those
Add 1 tsp turmeric powder
Swirl the eggs to coat with turmeric powder
Add salt
Marinate the eggs
Set that side
Chop the cilantro
And set this aside to be used later
Turn on the stove
Place the skillet
Add oil
Spread the oil
When the oil is hot, add the eggs
Fry the eggs till they are golden red all over
Cut the eggs in half.
Sprinkle some turmeric powder on the yolk side
Turn these over
Fry the yolk side till those sides are golden red as well
Remove from heat
Set them aside.
Add some more oil into the pan,
add the chopped onion
stir
when the onion gets yellowish, add the garlic
the ginger
stir
fry it till it is light yellow.
Add some oil
add kalojeera on the oil
let it complete popping.
Mix them well.
Add sliced green chilies
Add the sliced green chilies.
Stir.
Add the tomato
Stir
Continue stirring for about 2 minutes
add the eggs
mix the eggs carefully so they do not break
continue heating for a minute
add enough water to just cover the eggs.
stir
Add salt
Add half a teaspoon of turmeric powder
Mix
Turn over some of the eggs
cover
Bring it to a boil
Remove the cover
Turn down the heat
sprinkle 1 tbsp mustard oil on top
Add chopped cilantros
And turn off the heat