Posto or poppy seed is a favorite cooking ingredient in the Bengali cuisine. It is commonly believed that the Bengalis residing on the west side of Bhagirathi river, known as Ghoti Bengalis, are more fond of Posto than for those residing on the east side of it, called the Bangal Bengalis. So much so that Ghoti folks are called 'posto pagol', meaning that they are crazy for foods with posto. We, a bangal clan, must admit that we like the posto infused foods just as much. And here are the ingredients needed for our recipe of dim-posto or egg curry with poppy seed:
Ingredients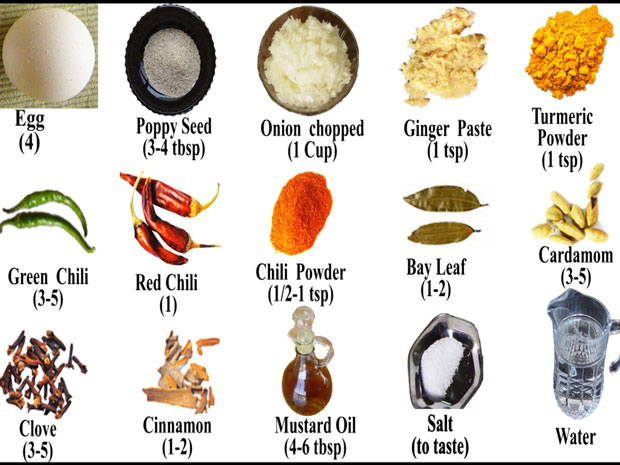 Principle
The procedure consists of 3 steps:
Boil and marinate eggs.
Soak and paste poppy seeds.
Sautee spices and cook with poppy seed paste and eggs.
Procedure
Soak the posto in hot water for about an hour. Or it can be soaked overnight in regular water.
For marinating the hard boiled eggs, cut each egg into two halves.
Add salt
Turmeric powder
Then carefully rub the mixture with the egg halves.
Leave it aside.
For grinding, transfer the soaked posto mixture into a grinder.
Add green chilies.
And salt.
And then grind the mixture into a smooth paste. It may take about 10-15 minutes.
Leave it aside.
For frying the eggs, turn on the stove.
Add oil.
Spread the oil around.
When the oil is hot, carefully add the eggs with the yellow side to the oil.
Stir slowly.
Then carefully turn them over.
Remove them from heat.
And leave aside.
In the same pan, add some more oil.
When the oil is hot add the dry red chili.
Add bayleaf
Add cardamom
Add cloves
Add cinnamon
Stir
After about a minute or two, add the onion
Stir
Fry it till the onion becomes translucent.
Add the ginger paste.
Add chili powder.
Turmeric powder.
Add water.
Add salt.
Cover.
Add the poppy seed paste.
Mix well.
Bring the mixture to a boil.
When the curry attains desired consistency, add the eggs, with the yolk side on top.
Spread one tbsp. of mustard oil.
Turn off the heat.
This completes the dim posto.
Shift to a serving bowl and serve with hot steamed rice.