As we cook our Bengali cuisine in the heart of silicon valley, I took a bus trip along a narrow corridor of the American west. I have been in search of a 'real' America, an America that I was told many years ago I could only find in a long interstate bus trip. I have traveled only a small distance and arrived at Oakland in a Greyhound bus. The driver, a Latino gentleman from Los Angeles had already left the bus. On the way from San Francisco he mentioned that he was shocked at how the Canadian immigration treated him at the boarder as he drove his bus to British Columbia. I could feel him. I could surmise that his ethnicity did not help him. As it did not help me some years ago at the Toronto International Airport. The immigration officials there asked me questions I felt downright disrespectful. And it did not do so to a close Indian acquaintance at the Bangkok International Airport. He was physically and forcibly removed from a checking queue at the hushed horror of nearby passengers. The disparity shown by the officials there between passengers of different skin colors was unimaginable.
But that would be another story in another time. Right then though the bus had reached the Oakland bus station and I would wait at the transit area to change into another bus.
With time in my hand, I patiently waited for all the passengers to get down from the bus. I was the last one to leave. The helper outside had taken out all the suitcases from the belly of the bus. I collected mine and then headed to the waiting room. I looked around the old architecture of the terminal dome. It looked grand for a bus station. And reminded me that the bus travel in this country once had its glory days.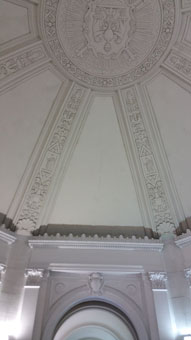 We started in a new bus that would take us from Oakland to Bakersfield. The driver, a jolly African-American gentleman, checked my ticket and wrote something on it. I told him that I would be using the same ticket for the next leg of my journey to Las Vegas. He understood my apprehension.
"Don't you worry," the driver consoled me. "See what I wrote?" He unfolded the ticket tabs in front of me.
"From Bakersfield you won't be using a blue Greyhound bus."
"Uh-uh" he lowered his head and looked at me from above the upper rim of his eyeglasses. His eyes smiling. "It would be an orange colored bus."
He bent his knees and danced it in childish glee.
"Now tell me what color bus you would be riding at Bakersfield?" he asked me like a teacher asks his nervous student.
"An orange colored bus."
"That's right," he was happy with my answer. "An orange colored bus. Now please go inside and choose a seat of your liking."
I deposited my suitcase underneath the bus in the farthest compartment from the door. And then I got inside.


The bus became pretty full when we left Oakland. And the passengers? Mostly Latinos and African Americans, although a fair sprinkling of Asians and may be a white. Living at where I live at Silicon Valley, and where people from all over the  world, in fact, live saying a white person is just not specific enough an identity in our judgment. In American mega culture the racial subtleties has taken its own dimensions. He looked more like an East European in my eyes – an Ukrainian or Moldavian or, or may be a Belarus. But well may be a Romanian. They go well with the Indians, may be due to their earlier connection with old Soviet Republic and  and the cozy relation that India have had with USSR. And most of these people of are from technical backgrounds. Over the years our eyes have sharpened to demarcate the finer shades of white (and brown and blacks and yellow as well) and we 'see' people in that nuanced light. A Russian 'appears' to feel more free to an Indian than may be to an Anglo.
But the passengers did not look like the kind I had in my imagination - the poor and dispossessed. May be I had not still reached in that part of America yet. Or may be the America has changed. The driver reminded us that no cell phone conversation would be allowed, nor any smoking or drug or alcohol consumption. The bus drove east through Tracy and  Manteca and then south through the central California towns of Modesto and Merced to Fresno.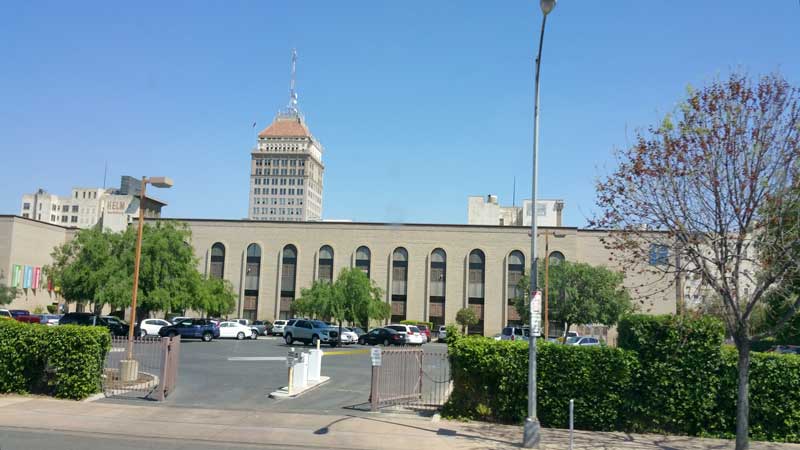 We would be allowed to get down to some stations only to spread ourselves and smoke, who so desired. It was at Fresno where we had a break of about 15 minutes. The passengers were decent. And again not the blue color manual workers I had assumed. They used the bus bathroom and left it as clean or more than it was before. My negativity about the bus travel was slowly getting dented.
When we finally reached Bakersfield, the afternoon sun was heating up. The connecting bus from there was late. But the one that we were led to ride into was indeed orange colored, as the driver from Oakland had me repeat.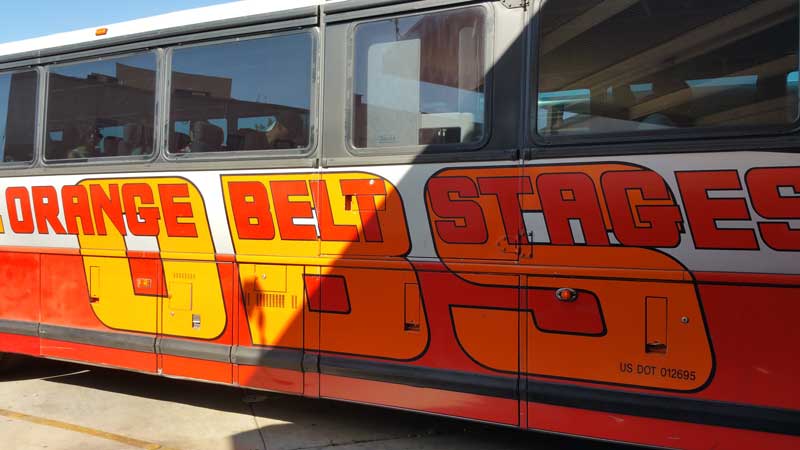 As the bus headed out of the city the surroundings changed. The trip took us through the Mojave desert.


On the way to Barstow we passed through the vast emptiness of the desert. You may feel, as I do, this immense attraction to soak into it's tranquil solitude.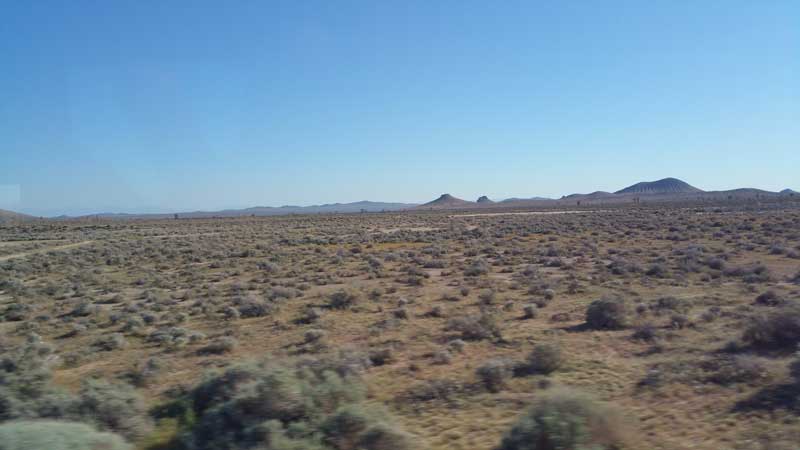 It started to grow dark past Barstow. The glittering casinos on the way at Primm, a town straddling the states of California and Nevada gave me a preview of the city we were heading to. And we reached Las Vegas half an hour late. My twelfth floor hotel room gave a good view of the city extended beyond the horizon.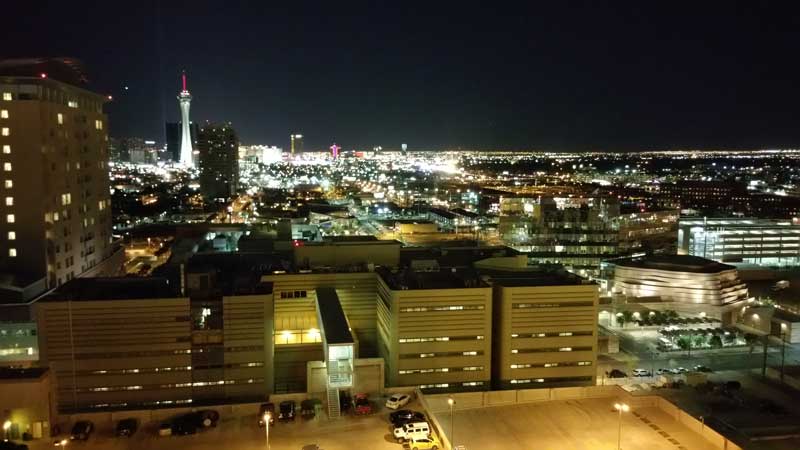 I needed to take a shower, eat my dinner and go to bed. Next morning my bus would start at 8:30 am going to Cedar City, Utah. (cont.)
It was the dinner that made me to think about a Bengali meal. Traditionally, a Bengali meal starts with a bitter dish like fried bitter melon or fried Neem leaves, often cooked with eggplant. The next course is rice and daal. Here we show how to make an easy bitter-tasting dish using an extremely simple recipe of quote unquote "fried" bittermelon, though its not actually fried. We use the microwave to give the bitter melon a crispy consistency without really using that much oil. So you keep the healthiness of your meal.
For this recipe we used:
The cooking procedure is simple. Cut the bitter melon in thin slices. Marinate these with salt, turmeric powder, red chili powder and oil. Spread the bitter melon evenly in a shallow microwave safe dish. Then microwave initially for 6 minutes on high temperature setting. Stir the mixture around and check the level of doneness. If needed microwave for about another 6 minutes or more to brown and crisp it to the desired level.
Remove from microwave and bring it room temperature before serving the fried bitter melon with hot rice and daal.