In Bengal region keema is cooked with ground lamb or chicken meat. But turkey meat, which is low in fat and is easily available in our area, serves the purpose very well for us. Here are the ingredients we have used:
Ingredients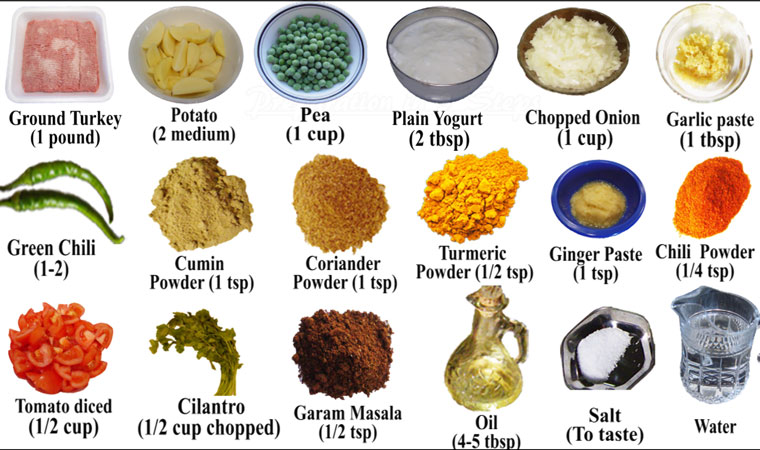 Principle
The recipe consists of 3 steps:
First the onion is fried with spices.
The meat is then mixed with other ingredients and cooked.
Finally pea and cilantro is added.
Procedure
We started with ground turkey meat, easily available in our area. However if you don't have minced meat, you have to mince it first. With that available, turn on the stove and heat a wok to moderate high temperature. Add oil and When the oil is hot, add the onion, garlic and green chili. Stir the mixture. Continue cooking till the onion is transparent. Add the ground turkey. Break up the pieces so they are small and they don't stick together. Once meat has begun to brown and begins smelling and does not look even slightly light or pink), which takes between 5 to 8 minutes. Add cumin powder, coriander powder, turmeric, grated ginger root and chili powder. Cook until spices smell fragrant, then add 2 tablespoons of yogurt, ½ cup of chopped tomatoes (optional) and salt. Stir. Continue cooking until tomatoes become soft; or when the mixture becomes soft and mushy (spices will become all mixed up). Then add potatoes and 4 cups of water. Mix well and bring the mixture to a boil. Cover and simmer for about ten minutes. Then remove the cover. If it's too watery, open lid and let water evaporate. When potatoes become soft add 1 cup of frozen peas, garam masala and chopped cilantro. Stir. Make sure it goes back to a boil again. Then turn off the heat. This completes the keema.
Serve keema with rice, chapatti or parota.