In summer and rainy seasons, kumro or pumpkin is grown in the Bengal region. It is during this period that the pumpkin green is used to cook the Kumro Saag Curry. It is a down to earth vegetarian curry eaten as everyday meal. Hearty and healthy, it is tasty and easy to make.

Ingredients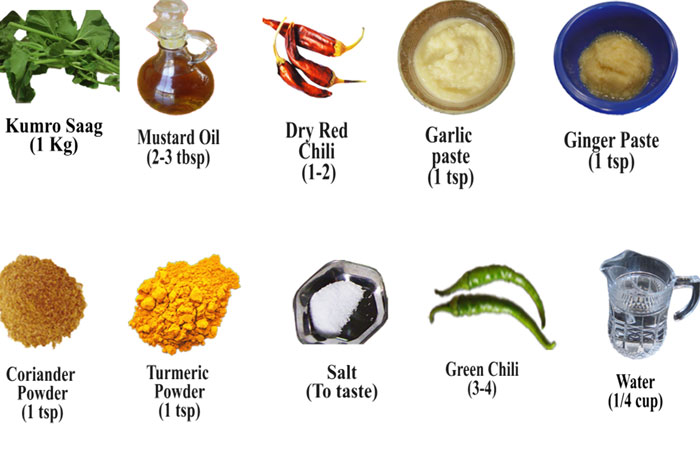 Principle
It is a recipe where the green is cooked with the sauteed spices.
Procedure
First cut the pumpkin greens or kumro saag into small pieces. Add mustard oil in a moderately hot pan. Then add the red chili, garlic paste and ginger paste and fry the mixture for 2 minutes. Then add the coriander powder. Mix together and then add the saag. Add tumeric powder, salt and the green chili. Mix and cover and cook for 5 minutes with occasional stirring. The water from the saag will cook the mixture.
Stir the mixture occasionally so it does not burn at the bottom. When the saag is soft turn off the heat. Spread some virgin mustard oil on top and then cool to room temperature. This completes the saag.
It should be ready for serving with hot rice or chapatti.