A Mughal contribution to Indian cuisine, the biriyani is a tasty food preparation, whose constituents and cooking styles have changed as it has moved east to the Bengal region. Eaten mostly during festive occasions, mutton biriyani is a common meat biriyani consumed in the Indian subcontinent. In Bengal, goat meat is generally used for cooking this biriyani. Here we describe a traditional Bengali mutton biriyani recipe. Savory and spicy, this meat dish is enjoyed by all non vegetarians.
Ingredients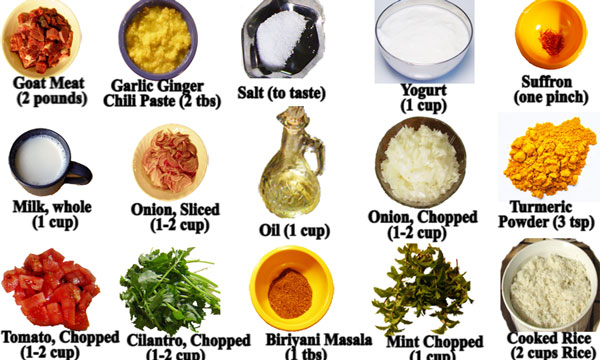 Ingredients For Garam Masala
Principle
The preparation consists of 4 steps.
In step one, the meat will be marinated with salt, garlic-ginger-green pepper paste and yogurt and left in the refrigerator for 4-8 hours or overnight.
Separately, the sliced onion will be fried in oil and kept aside.
Then the marinated meat will be cooked with fried chopped onion and spice mixture.
And finally layer the cooked meat with rice, fried onion and other condiments.
Procedure
1. To the goat meat, add (i) salt, (ii) garlic -ginger- green pepper paste and (iii) yogurt and then marinate uniformly.
2. Cover and leave aside the marinade for at least 4-8 hour but preferably overnight in the refrigerator.
3. In a moderately hot pan, add 3 tablespoons of oil.
4. When the oil becomes hot, fry the sliced onions for about 10 minutes or so till it is uniformly fried.
5. Set it aside.
6. In the left over oil add the chopped onion.
7. Fry it till it becomes golden yellow.
8. Then add the marinated meat.
9. Cook for about five minutes or till the water evaporates.
10. Then add turmeric powder.
11. Stir well.
12. Then add the chopped tomato.
13. Continue stirring for several minutes till the onion turn golden brown in color.
14. Then add 2 table spoons of biriyani spice mix.
15. Stir well.
16. Then add 1 cup of water.
17. Mix them well.
18. Cover the pan.
19. Cook it, with occasional stirring, for an hour or so till the meat becomes cooked. If you have a pressure cooker, you may want to use it at this stage to shorten the cooking time.
20. Into the cooked meat add chopped cilantro and stir.
21. Then remove from the heat.
22. In a shallow dish, layer an inch thick of rice.
23. Thinly spread a layer of fried onion.
24. Sprinkle saffron in milk over it.
25. Spread a layer of the cooked mutton.
26. Sprinkle chopped mint.
27. Repeat this process all over a second time.
28. And depending on the amount of material a third layer as well.
29. Squeeze lemon juice from one whole lemon.
30. Cover the pan.
31. Heat an oven to 350 degrees.
32. Then put the biriyani inside the oven.
33. Heat for about 15 to 20 minutes.
34. And then remove from the oven.
This completes the mutton biriyani. It takes about two hours for the preparation and it serves 4-6 people. Serve the mutton biriyani hot.