A chorchoree is a vegetable curry that's eaten with rice before the main fish and meat dishes. Shojne data is a green pod that grows on Shojne (also known as Moringa) trees during the summer months. This chorchoree is a seasonal dish. And this vegetarian curry has a unique, earthy taste. Many Asian groceries carry canned Shojne data that has already been chopped and cleaned and are called "drumsticks" in English. We found these fresh data from a farmers' market in Northern California.
Preparation time: 30 minutes
Serves: 3 people
Ingredients: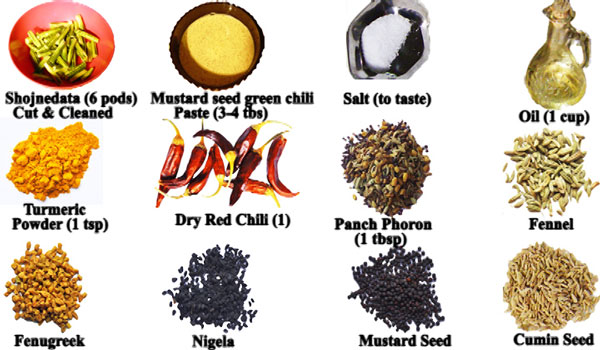 Procedure:
1) Chop the data stalks into 1.5-2 inch pieces and peel off the outer fibers with a knife. Rinse with water.
2) To a medium hot pan, add oil and when the oil is hot, add the dry red chili and panch phoron spice mix.
3) When the seeds start to pop, add the data.
4) Stir the mixture for the next 2 to 3 minutes and then add the mustard seed-green chili paste, turmeric powder, salt and a cup of water
5) Cover the pan, and after several minutes remove the cover and stir the curry. Repeat this process for the next 8 – 10 minutes until the data is soft and the mixture has reached its right consistency.
6) Then remove it from the heat, stir and let it cool to room temperature.