Misti Doi is a typical Bengali dessert that is used in practically every festive occasion. Creamy and sweet it can be prepared in several methods.

Ingredients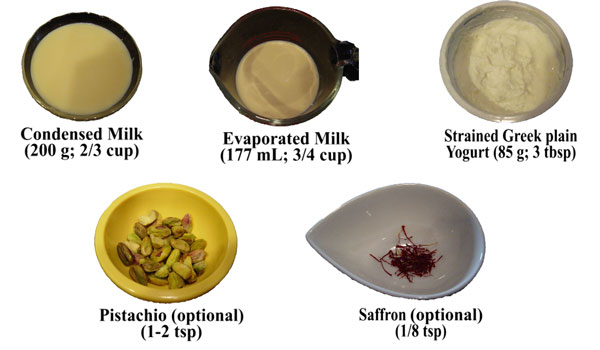 Procedure
1. Choose an oven-proof container. We used a 2 cup size container.
2. Turn on an oven & set for 300 degrees Farenheit (about 150 degrees Centigrade).
3. Pour the condensed milk into the bowl.
4. Add the evaporated milk.
5. Add the yogurt. We used fat free strained Greek yogurt.
6. Mix well or use a mixer to make it uniform. With spoon it takes about 10 minutes.
7. Cover the container with an aluminum foil.
8. Put the bowl in the oven.
9. Close the oven door.
10. Set timer for about one hour and ten minutes.
11. After that time, you may see that the yogurt has set and bubbles are forming from the side.
12. Turn off the oven and let the yogurt cool to room temperature inside the oven (about 3hours).
13. Then remove from the oven.
14. Put it inside a refrigerator for 2 hours (or longer) to chill.
This completes the Misti Doi preparation.
Serve the Misti Doi alone or with chopped roasted pistachio and some saffron.